In Short: Gold leaf or gold foil decoration is a hallmark of Murano glass-making, creating the rich elegant sophisticated look of sparkling gold multiplied by glass reflections, which people cannot take their eyes off. Gold and silver leaf decoration was invented on Murano in the fifteenth century, and was used in glass mosaics, mirrors, for decoration of tableware, including Cristallo and Lattimo cups, plates, and goblets, and later on for chandeliers.
---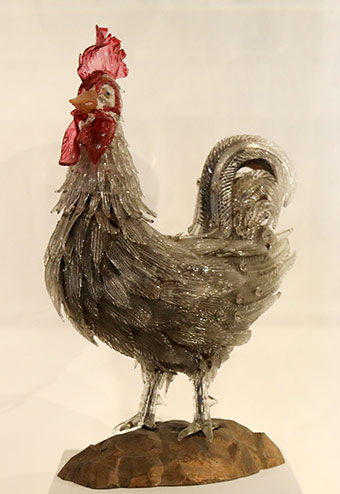 After being used for some time gold leaf fell out of fashion around the eighteenth century. It regained popularity in the middle of the nineteenth century and was in continuous use in Murano glassmaking workshops ever since.
Gold and silver leaf is so called because first gold or silver needs to be beaten into extremely thin leaf-like state of about 0.15 micron in width. To give you an idea of such thin surface, this means about 20 grams of the precious metal are used to cover six square meters. The silver leaf is then cut into small squares of about 8 cm, which are held in special safes in the workshop, out of safety concerns but also so they do not get accidentally blown away by even small air movements inside the workshop.
To infuse gold or silver into the glass object, the glass master has to roll these small 24K gold or .925 silver sheets onto hot glass mass during the early stage of glass-blowing, and then once the gold or silver leaf covers most of the blob's surface, put on another layer of transparent glass. Once the master starts blowing the glass, the gold leaf within breaks up into small pieces. This technique results into objects having gold pieces captured inside the item.
Another method is to apply the gold directly onto the surface of the glass object. This is usually done while the object is created and the glass is already cold. Gold leaf is placed on top of the cold glass object, glued to its surface and then etched with a special tool to get a particular pattern. To protect the gold and prevent it from coming off, the object can then be encased into a layer of hot transparent glass.
The first technique was in widespread use for making gold or silver glass mosaics even as far back as Byzantium. After its rediscovery by the Venetians, the gold glass mosaics were crafted again, often with the goal of restoring old Venetian churches, primarily Basilica di San Marco with its 8,500 square meters of gold mosaics.
In the nineteenth century Lorenzo Radi and Antonio Salviati breathed life into Murano-based glass mosaics production, which all but stopped after the fall of the Venetian Empire. Lots of factories in Cannaregio district of Venice were established to produce mosaics, and another important figure, Angelo Orsoni founded one of them, which gained distinction at the Paris Universal Exposition of 1889. There Orsoni exhibited a gorgeous installation featuring nearly 1,500 colors of gold and silver-lined glass mosaics, showing off the unbelievable skill of Murano's glass artisans.
Angelo Orsoni's factory still exists in Cannaregio today. It is the only factory that creates gold mosaic tiles for restoration of St. Mark's Basilica, and it represents the continuation of Murano Glass craftsmanship through the ages.
If you appreciate the glorious look of 24 karat gold and genuine silver-lined Murano Glass, at GlassOfVenice you can find jewelry, accessories, sculptures, vases, tableware and even chandeliers with gold and silver foil decoration. Every product category on our website has a Technique filter on the left-hand side, and when you select Gold Foil or Silver Foil you will see all such items in each category. This includes gold and silver foil necklaces, pendants, earrings, and rings, to cufflinks, keychains, candle holders, vases, sculptures of animals, clowns, fish, and everything else.