In Short: Cristallo Glass was first-ever colorless glass, which was obtained by Murano masters by bleaching glass mixture using manganese or other de-colorants. It was so pure and translucent that it evoked rock crystal, the perfectly clear natural form of quartz.
---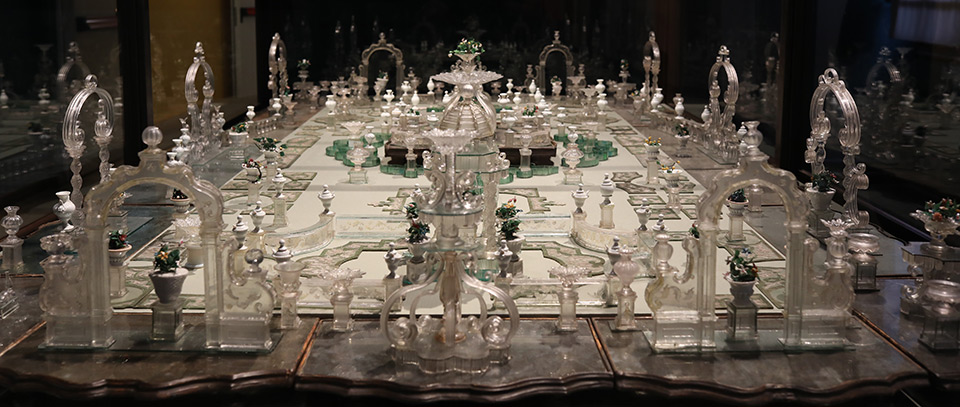 In the fourteenth century Murano's glass masters figured out how to create small flat colored glass disks for windows, which were inserted into round metal frames, which were molded together to make up the window panes. These new colored window panes from Murano were used for the windows of Milan Cathedral, as well as the Church of Santi Giovanni e Paolo in Venice, and then quickly became extremely popular among wealthy merchants and nobles. From then on, window glass sheets made up the bulk of Murano Glass production until the fall of the Venetian Republic.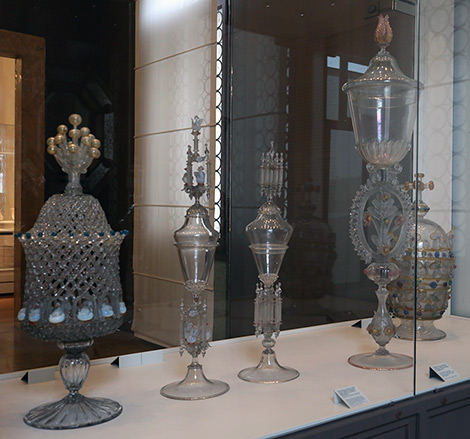 Despite colored glass' popularity, many Murano masters in the fifteenth century kept looking for a way to create translucent glass. The local artisans experimented with various chemical mixes for the glass paste that would result in completely clear colorless glass. Finally, one of Murano Glass makers, Angelo Barovier in mid-fifteenth century invented the method to create clear glass, which was pure like rock crystal.
He combined quartz powder created from finely ground pebbles of the Ticino river with the processed plant material from the marsh plants found on Mediterranean shores (a source of sodium carbonate or soda, and potassium). Then he added Manganese dioxide, which was used in Murano glass-making since 1290 as a bleaching agent. This recipe was one of the most closely guarded secrets of the venetian Republic for centuries, so much so that disclosing it abroad was punishable with a death sentence.
This combination along with a deep understanding of the chemical properties of each element finally allowed Barovier to create clear glass, or Cristallo, also known as Venetian Crystal. This gorgeous coveted Cristallo glass, often decorated with exquisite enamels and gold leaf, put Murano firmly in the center of European high-end glass production, and orders started flowing in from local and foreign nobles and merchants, from kings and queens, and even from the Pope himself.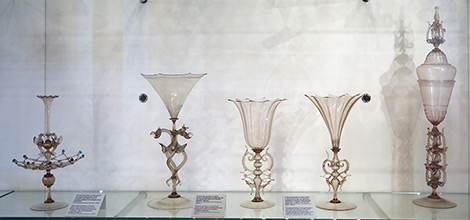 Even though Cristallo Glass is often translated to English as Crystal, one has to be careful not to confuse Murano transparent glass with regular crystal. The distinction is important: Murano Glass is made with soda ash, making it light, translucent, delicate, and uniquely suitable to fine manual workmanship. Regular crystal, or Bohemian crystal (originally from Bohemia but now produced in many countries in Europe and beyond) is made with calcium, potassium and lead oxide. It is usually heavy and cut and polished by machines, as it is not suitable to crafting by hand.
If you appreciate Venetian Crystal or Cristallo Glass, we have many Cristallo and gold leaf sculptures, as well as transparent and colored Cristallo decanters and goblets in stock from the top glass masters on Murano island, who specialize in this famous glass-making technique. The Cristallo and Gold sculptures and available HERE, the Cristallo goblets and champagne flutes are available HERE.
Read additional information about Angelo Barovier and the legendary glass-making dynasty of Barovier's at
https://www.glassofvenice.com/blog/2015/09/the-great-murano-glass-masters-barovier-family/